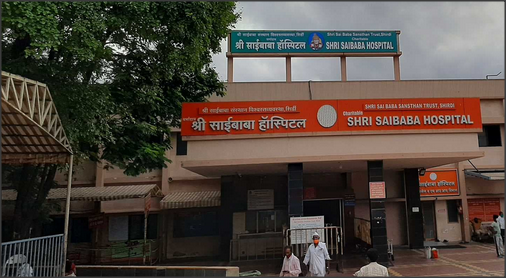 Considering the ever increasing number of patients from in and around Shirdi, Shri Saibaba Sansthan Trust, Shirdi and the management at that time decided to expand and establish a hospital on the lines of hospitals in Pune and Mumbai. The main aim was to provide all medical facilities at minimal rates and to provide free medical facilities to patients belonging to Below Poverty Line (BPL) and minimal rates for  people from deprived classes of society. For this reason, a Super Speciality Hospital was established in the name of Shri Saibaba. This Hospital was inaugurated on 15th May 2006 by the then Chief Minister of Maharashtra Late Shri. Vilasrao Deshmukh. This hospital has been equipped with latest and high quality equipment's, machines and built as per International Standards. It is a 261 bed hospital built at a cost of approximately Rs.50 Crores. Even though it is a Charitable Hospital maintained by Shri Saibaba Sansthan Trust, there has been absolutely no compromise in quality in offering health services. The basic resources like faculty, material and machinery are of highest quality.
Departments in Shri Sai Baba General and Super Speciality Hospital:
Anaesthesiology

Cardiology

Cardiac Surgery  

Critical Care Unit

Dentistry

Emergency

General Medicine

Neuro Surgery

General Surgery

Maxillofacial Surgery

Neurology

Pathology

Nephrology

Ophthalmology

Urology

Physiotherapy

Radiology

Orthopaedic Joint Replacement Facility
| Sn. | Name od ICU | Beds | Sn. | Name of ICU | Beds |
| --- | --- | --- | --- | --- | --- |
| 1 | Cardiovascular Intensive Care Unit | 11 | 8 | CVTS Ward | 34 |
| 2 | General intensive care Unit | 11 | 9 | MSW | 37 |
| 3 | Surgical Intensive Care Unit | 07 | 10 | Private Ac rooms | 08 |
| 4 | Neuro Intensive Care Department | 04 | 11 | Delux Room | 05 |
| 5 | Cardiac Recovery Ward  Unit I | 22 | 12 | Ladies General Ward | 28 |
| 6 | Cardiac Recovery Ward  Unit II | 10 | 13 | Twin Sharing Rooms | 37 |
| 7 | Cardiac Ward   | 37 | 14 | Causality Emergency Care | 10 |
|   | Total |   |   | 261 |   |
Since its inception till 2015, the hospital has treated over 8 lakh people for various ailments. Above 50,000 patients of Cardiac, Cath Lab procedures and 10,000 cardiac open heart surgeries, 3000 neuro surgeries, 1000 joint replacement surgeries and other general surgeries have been performed at minimal rates and some of these surgeries have been performed free of cost.
Super Speciality Staff and Consultants:
The hospital has 17 experienced and expert team of Super Speciality Consultants. These doctors serve the hospital not desiring the lucrative salary-jobs, urban facilities like schools for their children, other luxuries of urban area and have settled in the village of Shirdi for serving the patients. The cardiac surgery department has also called eminent doctors from abroad to conduct complicated heart surgeries. Furthermore, health camps and workshops have been arranged on regular basis. Also, Joint Transplants, Eye and Neurosurgery Camps have also been organized on a regular basis.
In order to retain the expert consultants and to let the patients have the benefit of their expertise, the management of Shri Saibaba Hospital offers an attractive pay package per month. Thus, Super Consultants, doctors from different cities, are eager to serve this hospital. The paramedical, nursing, technical and other staff who are experienced, are also serving in this hospital.
Cardiology and Cardiac Surgery Department:
Shri Saibaba Hospital administration has made available world class stents round the clock and almost 2000 Percutaneous Transluminal Coronary Angioplasty (PCTA) operations, 1400 Open Heart Surgeries, 500 Valvuloplasty Operations, 1500 Valve Replacement Surgeries are being performed every year in this hospital. Around 350 patients with "hole" in the heart are treated with either Percutaneous Device Closure (suture less) or Open Heart Surgery every year. For patients who have complete heart block or very low heart rate with syncope a permanent pacemaker is implanted and this procedure is done to around 200 patients every year. 
Apart from the above procedures, 2D Echo, TMT, TEE and Cath lab procedures are being performed even for children as young as 3 months (3 Kgs) and elderly patients as old as 95 years of age with world class results.
Neurosurgery Department:
The Neurosurgery Department has till now performed over 2400 Neuro Surgeries successfully. These include simple to most complex brain & spine operations which were refused by the leading Medical Colleges in Metro Cities.
All Neuro Surgical emergencies are attended to round the clock. Very recently the Hospital has started Microvascular Neurosurgery in the form of clipping of Aneurysms, Microvascular Decompression of Trigeminal Nerve for Neuralgia.
In future, the Hospital is planning to start Minimal Invasive Neuro Spinal Surgery which include Neuro Spinal Endoscopy which will be of immense help to the poor and needy patients residing not only in and around Shirdi but also to patients of nearby districts.
Orthopaedic Department:
The Orthopaedic Department has been performing general as well as special Orthopaedic Surgeries like Trauma, Spine Surgeries, Joint Replacement Surgeries, and Arthroscopic Surgeries. The Hospital is running a daily OPD for around 100 patients.
The Hospital conducted a unique Orthopaedic Camp in 2011 and conducted 100 Knee and Hip Replacement Surgeries absolutely free of cost for poor patients.
In future, the Hospital is planning to conduct Joint Replacement Surgeries on a regular basis.
Department of Radio-Diagnosis, Medical Imaging & Interventional Radiology:
This Department is fully equipped with latest state of the art machineries and equipment's. Facility for conducting various examinations like Angiography, whole body CT Scan, Dental Scan, MRI-Spine, Brain, Abdomen-Pelvis, MRCP, Venography, Spectroscopy, Fistulography, Image guided FNAC, Biopsy & Taping are available. The department has a well-informed & trained team of Radiologists.
Department of Pathology:
The Saibaba Hospital's Laboratory is designed in such a way to support the hospital round the clock. The Hospital has sections for sample collection, Clinical Pathology, Biochemistry, Immunoassay, Haematology, Microbiology, Histopathology, and Cytology. The Department is fully equipped with state of the art equipment to support Super Specialty OT's, CRU's, ICCU's working for 24 hours. The Hospital has tied up with CMC Vellore for both Internal and External Quality Control.
The Department has also facility for conducting Aerobic and Anaerobic Cultures of all the OT's, Wards, ICCU's of both Shri Saibaba and Shri Sainath Hospitals. The Department has fully automated Biochemistry, Haematology, Histopathology and Hormone Assay Instruments that can cater 250-300 patients on a daily basis.
Annual Turnover of Shri Saibaba Hospital:
Shri Saibaba Hospital is having an annual turnover of approximately Rs.150 crore.
Schedule of Charges:
The rates in the Hospital are structured in such a way that the services are available at lower rates to benefit the poor patients. The rates are nearly 20-30% lesser than the well-known super specialty hospitals. Even for other patients, 20% to 50% off on the bill is given. In this way, around 35 to 40 lakh is endowed every month.
In addition, according to the Bombay Public Trust Act, 1950 and High Court suggestions, 10% of the patients below poverty line are treated free of cost and 10% of the deprived class are treated at reasonable rate.
Achievements of Shri Saibaba Hospital:
Shri Saibaba Hospital has a successful occupancy rate of 95% with average length of stay of 6 days per patient. With the Grace of Shri Saibaba, since 2006, the Hospital is steadily achieving a success rate of over 95% till now.
Liquid Oxygen Plant:
Considering the increasing number of patients, the Saibaba Sansthan Trust has taken on contract basis a liquid oxygen plant which has the capacity of storing 13,000 litre. It is manufactured by M/s.Praxair Limited, Mumbai. It was commissioned at the hospital on 1st September 2012. Due to this facility, the operation theatres, Cardiac Recovery Units, Intensive Care Units, general wards receive 99.80% pure oxygen.
Prime Minister National Fund:
Shri Saibaba Hospital has been registered in the Central Government scheme under the Prime Minister National Fund considering its medicinal facilities, infrastructure, highly educated and well experienced staff, and the privileges and financial help provide to the patients by Health & Family Welfare Ministry, Delhi. Under this Plan, the hospital receives 50% amount (maximum of Rs.1,00,000) for major surgeries and treatment of patients.
Computerization of Departments:
All the departments of Shri Saibaba Hospital have been computerized and CCTV system is installed all over the premise. The hospital also has internet facility and as per the New Rajiv Gandhi Jeevandayi Jojna, a faster, independent 10 MBPS lease line has been installed in the Hospital. Additionally, the departments are linked and their e-tenders are filed. The functioning of the hospital is therefore more effective.
Blood Bank and Ambulance:
The hospital provides the patients with 24 hour ambulance service at an affordable rate and blood bank is open too. Separate, special ambulances for cardiac department are also made available.
Statistical Summery for Last three Years
 

Department/Treatment

 

Patient Numbers

 
 

Department/Treatment

 

Patient Numbers

 

Sn.

Year

2019-2020

2020-2021

2021-2022

Sn.

Year

2019- 2020

2020-2021

2021-2022

1

OPD

1,90,105

95,288

1,01,597

9

Neuro Surgery

1,131

385

405

2

IPD

12,844

7,531

7,779

10

Uro Surgery

467

64

162

3

Investigation

(MRI, CT Scan, X-Ray, USG, 2D Echo, TMT,Lab, Dialysis, ECG, TEE )

4,43,850

2,35,164

2,58,342

11

General Surgery

1,501

312

708

4

CVTS (Bypass, ICR,MVR,DVR,AVR,PDA,

AVF,TOF)

1,273

372

549

12

Orthopaedic

837

301

316

5

Angiography

3,294

2,176

1,696

13

Dental

176

71

64

6

Angioplasty

1,499

1,129

826

14

ENT

-

-

-

7

Cardiac BMV/BAV/BPV

359

72

96

15

Plastic Surgery

448

70

13

8

PDA/ASD/VSD/TPM

292

133

206

16

Nephrology

16

-

-
Public Relation Department: Phone no 02423-258686
This departments helps patient to get medical aid under Prime Minister Medical Fund, Chief Minister Medical Fund. It also gives information regarding the various Trust from which patients can get financial aid for Medical treatment.
Social Worker Department Phone no 02423-258681
This department helps patients for getting financial benefits under  various government scheme. 
Various schemes for discounting medical treatment bills for patients:
A]  Concessions to patients from economically weaker sections
B. P. T. Act, 1950 and Hon. High Court Scheme, Various Government Schemes, Concessions are being given in the medical treatment bill of the patients from the poor, needy and weak sections below the poverty line. 
               The last 03 year details are as follows
| | | | |
| --- | --- | --- | --- |
| Sn. | Year | No of Patients | Concessions Given |
| 1 | 2019-2020 | 47114 | 9.77 Cr |
| 2 | 2020-2021 | 26036 | 5.23 Cr |
| 3 | 2021-2022 | 26833 | 5.19 Cr |
B]  Mahatama Jyotiba Fule Jan Arogya Yogana (Rajiv Gandhi Jivandai Arogya Yogana):
 As per state government law old Jiwandai Yogana is closed instead new scheme is launched namely "Mahatama Jyotaba Fule Jan Arogya Yogana"
This Scheme is launched from 21 Nov 2013, this is totally online scheme managed by National Insurance and TPA.  
Shri Saibaba Hospital is the highest beneficiary in the entire Maharashtra State for Government Jeevandayi Arogya Yojana for Cardiology & CVTS Departments. This scheme was implanted in the year 2007 and till now (2022) 30,00 heart surgeries have been conducted free of cost under this scheme
This has helped in faster and efficient execution of the scheme and is more work effective. The patient and his/her relatives need not run around various offices/departments to get their insurance approved. It takes hardly 2-3 hours for approval. Additionally, all diagnostic tests, treatments and operations are performed free of cost under this scheme.
Also, the patients after discharge, gets free follow-up medicines for the following 10 days. If the patient is not a local resident, the travel fare from the hospital to home and back are paid. Because of this, the patient as well as relatives are very happy with the scheme. The scheme has come as a big blessing for the needy patients and is very convenient even for the hospital administration.
The statics of this scheme is as under
Free OPD & IPD Investigations 
Sn.
 

OPD

IPD

Year

Patients

Amount

Patients

Amount

1

2019-2020

12260

1,89,99,653

4,514

22,57,71,415

2

2020-2021

5378

1,08,12,188

2,329

13,99,82,798

3

2021-2022

6168

1,26,84,485

3,475

14,87,64,757
C]  Pradhan Mantri Jan Arogya Yojana:
This scheme is implemented from 19/09/2019. Under these scheme a patient with Aushyaman Card is treated freely.  Last three year statics for these scheme is as below.
| | | | |
| --- | --- | --- | --- |
| Sn. | Year | Patients | Amount |
| 1 | 2019-2020 | 12 | 12,20,000 |
| 2 | 2020-2021 | 19 | 16,45,000 |
| 3 | 2021-2022 | 11 | 8,60,000 |
|   | Total | 42 | 37,25,000 |
Contact Details:
Shri Saibaba Super Speciality Hospital
Manmad-Ahmednagar Main Road,
Shirdi- 423 109, Rahata Taluka,
Ahmednagar District,MS 
Phone: 02423-258 666 / 02423-258 500
Email: saibaba.hospital@sai.org.in
Website: www.sai.org.in Online services https://online.sai.org.in