​​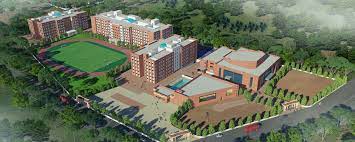 Shri Sai Baba College was established in the year 2018 in Sai Centenary year. At present, 904 students are studying in the college in Arts, Commerce, Science and Computer Science. Recently from June 2022 BCA course is also started. Shri Saibaba Sansthan trust takes very nominal fees for technical education. All the requisite amenities are provided for student.  The last year third year result of all branches of the college is above 80 percent.
College new building costing 100 Cr is near to completion, all infrastructure will get ready by June 2023. Indoor Sport hall, ample playground, Swimming Pool will be available for students soon.  NCC, NSS, Scout Guide, activity are carried as per rules of university.
Scholarship is also available for students as per university guidelines. Regular fees for college are very nominal.
Well qualified staff are appointed for academic curriculum activity. Well-equipped lab for BCS and BCA students
Various committees are functioning in the college, and through them various activities and competitions are conducted for the overall development of the students.Marathi Language Department On behalf of the Department of Marathi.
Marathi Language Department
On behalf of the Department of Marathi, "Marathi Language Promotion Fortnight" in the year 2021-22. It was implemented from 14 January to 28 January 2022. Literature reviews, poetry readings and storytelling were conducted under this activity. Also on February 27, 2022, while celebrating "Marathi Language Pride Day Celebration", book and book reading, oratory competition, essay competition, quiz etc. competitions were organized.
Hindi Language Department
On behalf of the Hindi Department, Dr. Shashi Salunkhe lecture was held on 3rd January 2022. Also, on the occasion of Hindi Day on 14th September 2022, competitions were organized from 11th September to 14th September 2022.
History Department
On February 19, 2022, while organizing the Shiv Jayanti festival, online quizz, lectures, various costumes competitions was organized. 
Economics Department
On behalf of the Department of Economics, an online lecture was given on "Structure of Indian Bank Business" in the competitive examination guidance lecture series.
Geography Department
This year the Geography Scholor competition was organized under the Geography Department on the occasion of Geography Day. On March 22, 2022, various competitions were organized to mark the World Water Day. In order for the students to know about the modern technology of GPS, the Department of Geography a lecture by Prof. Chandrakant Bansode was organized.
Politics Department
Many activities have been implemented on behalf of the Department of Political Science and National Voter's Day was celebrated on 25th January 2022. Quiz was conducted on the occasion of voter awareness programme, democracy promotion fortnight. Constitution Day was celebrated on behalf of the department on 26 November 2022. Departmental professors participated in many national and international workshops.
Library Department
On behalf of the library department, book exhibition, poster making, essay competition, my favorite book, quiz etc. competitions were conducted on the occasion of National Library Week from 14th November to 16th November 2022.
Sport department
Various inter-college competitions, annual sports competitions, inter-class competitions, various lectures, yoga days were organized for the students. 07 athletes of the college participated in the inter-college sports competitions and a total of 06 athletes were selected for the inter-departmental competition. Sports Director Dr. Vikram Satpute sir was selected as the Team Manager of Inter-college Chess, Rowing, Softball under Savitribai Phule Pune University.
Commerce Department
In the current academic year, 302 students are studying on behalf of commerce department and the result is 81.25%. Mrs. Sayali Bhadange, a student, was selected as a senior officer in ICICI Bank in campus interview. Saish Khole, a student, won first place in the poster making competition in the youth festival. On 20/12/2022, the department organized a lecture by Dr. Ravi Shah. 70 students of third year commerce branch completed their internship in various departments of Shree Saibaba Sansthan Trust.
Botany Department
Current Academic Result of Botany Department is 100%. On the occasion of Science Day, the department organized various activities on 28 February 2022 which included quiz competition, poster presentation and equipment.
Chemistry Department
On behalf of the Department of Chemistry, the students were guided through competitive exams and placement cells.
Mathematics Department
'Madhava Mathematics Competition' was organized jointly with SP College Pune and TIFR Mumbai, the student 'Jagdale Karthik Gangadhar' won the third position. On December 22, 2022, the department organized a program to mark the birth anniversary of Srinivasa Ramanujan.
Department of Physics
Department of Physics organized Solar project visit to Shri Saiprasadalaya in 2021.This is Asia largest solar kitchen. This department celebrated Science Day on 28 February 2022. Two students of the department got selected in ICICI Bank under Campus Interview
Computer Science
Currently 144 students are studying in the department and the result of the current academic year is 100%. The student of this department 'Karthik Mahesh Mendu' was selected in the company Smart Genesis Private Limited.
Apart from this department many committees are functioning in the college. Those Committees and Committee Coordinators are as under –
Student Development Committee

Dr. Shivaji Dhokane

Examination Department   

Prof. Amol Kachre

Extra Mural Activity 

Dr. Sunita Vaditke

Periodical Committee 

Prof. Sonali Hardas

Visakha Committee 

Prof. Swapnali Khandre

Student Health and Welfare Committee

Dr. Yogita Kopte

Anti-Ragging Committee

Dr. Shivaji Dhokane

Equal Opportunity Room

Prof. Sonali Hardas

National Service Scheme

Dr. Santosh Autade

Cultural Committee 

Prof. Mubeen Sheikh

Local Selection Committee 

Prof. Nitin Pawase

IQAC Committee 

Prof. Deepak Patare

Examination Evaluation Committee

Prof. Shivnath Takte,

Dr. Shreyas Pansambal

Career Orientation Committee 

Dr. Shreyas Pansambal

Disciplinary Committee 

Dr. Vikram Satpute

Competitive Exam Guidance Committee

Dr. Shivaji Dhokane

Admission Committee 

Prof. Ganesha Magar

Scholarship Committee 

Prof. Vikas Bhand

Innovation Committee

Dr. Ganesh Bhand
Hon Management is planning to JEE, NEET, MS CET classes from April 2023 which will be helpful to student of Shirdi and nearby villages.